Free Stuff From Others
Free Stuff
Free Tools
Free Tools You May Find Useful
for My Bookeeping Courses and Excercises
and also for your home or business use.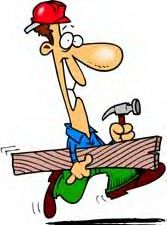 Free OpenOffice Office Suite
Gives you everything you'd expect in office software and more for free. Don't have Microsoft Word, Excel or PowerPoint ? This office suite also provides you with the capability of working with Microsoft Word, Excel, and PowerPoint files.
What's in the suite ?
Writer is a powerful tool for creating professional documents, reports, newsletters, and brochures.
Calc is a feature-packed spreadsheet which can turn boring numbers into eye-catching information.
Impress is the fastest, most powerful way to create effective multimedia presentations.
Draw will produce everything from simple diagrams to dynamic 3D illustrations and special effects.
Base is a fully featured desktop database management system, designed to meet the needs of a broad array of users, from tracking a personal CD collections, to producing a corporate monthly departmental sales reports.
LibreOffice is a powerful office suite – its clean interface
and feature-rich tools help you unleash your creativity and enhance your
productivity.
LibreOffice includes several applications that make it the
most powerful Free and Open Source office suite on the market.
FreeOffice
Another free alternative
to Microsoft Office
FreeOffice is a complete office suite with a word processor, a spreadsheet application and a presentation program – all compatible with their counterparts in Microsoft Office.
Free Adobe Reader
Reads and Prints PDF Files
Free FoxIt PDF Reader
Reads and Prints PDF Files
Excellent Substitute for free Adobe Reader
Zipper

Free Zip File Program
Zip programs are used to compress and expand files in order to speed up data transfer over the internet. You often need one of these programs in order to be able to install computer programs downloaded from the internet.
Free Accounting & Bookkeeping Software
r is free accounting software for small business. Available for Windows, Mac and Linux.
Manager is free accounting software for small business. Available for Windows, Mac and Linux.
It's free, works offline and it's cross-platform.
Unlike many other so called 'free' accounting software packages, Adminsoft Accounts is not just a free trial, it really can be used for free, for ever. No time out, and no reduced functionality.
It's a full double entry accounting system, complete with Accounts Receivable (Sales Ledger), Accounts Payable (Purchase Ledger), General Ledger (Nominal Ledger), Stock Control/Inventory, Purchase Order Processing, Invoice software, Human Resources, and even payroll software. It's also multi-user, multi-company, and multi-currency.
FrontAccounting (FA) is a free (donations appreciated) professional web-based Accounting system for the entire ERP chain written in PHP, using MySQL. FA is multilingual and multicurrency.
BS1 Software
Free and paid versions available.
BS1 Enterprise Accounting
- Accounting Wholesale Distribution ERP Software
AP, AR, GL, Inventory, Sales Analysis, Quotes, Sales Orders, Purchase Orders
BS1 Enterprise Accounting with Manufacturing
- Accounting Distribution Manufacturing ERP MRP Software
AP, AR, GL, Inventory, Sales Analysis, Quotes, Sales Orders, Purchase Orders, Manufacturing
BS1 Accounting
- Free Accounting Software
AP, AR, GL, Inventory, Sales Analysis
BS1 Professional Time Billing
- Free Time Billing and Accounting Software
AP, AR, GL, Inventory, Sales Analysis, Time Billing