Advertise
Support My Site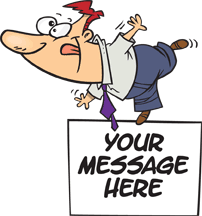 Bean Counter's Advertiser/Sponsor Program
Thanks for taking the time to check me out. I've attempted to be brief, yet provide enough information for you to decide if you want to be a Bean Counter Sponsor/Advertiser.
Do you have a quality web site related to accounting and bookkeeping, small business, education, or individuals ? If so, consider becoming a sponsor/advertiser and promote your product or service while at the same time helping to maintain my site.
Your support helps keeping my site free and in defraying the cost of my websites and the time involved in developing my free bookkeeping tutorials and searching for and reviewing additional sites in order to provide my visitors with additional sources for accounting and bookkeeping information. I'm just one of the little guys, and any and all help is appreciated.
My rate is $25/month paid monthly and you are free to cancel at any time. That's cheap advertising. Not looking to get rich; just make
a litlle so I can afford McDonalds.
Your ad runs site wide on my site dwmbeancounter.com. This means that your ad is delivered to all my main pages at the top of my Headers.
Your ad also runs on my "sister" sites: