Bean Counter's
Financial Statements & Analysis
Hello my name is Dave and yes I'm a bean counter. No I didn't say alcoholic, that's a soft drink not a beer in my hand, and this is not a meeting of Alcoholics Anonymous. For those of you that don't know a bean counter is slang sometimes used to refer to a bookkeeper or accountant. I've searched the web for good bookkeeping and accounting tutorials and courses and came to the conclusion that they're hard to find so this is my attempt to try and fill the void.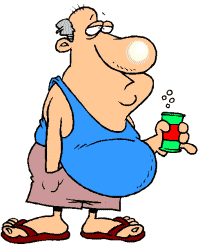 What qualifies me to attempt this task ? I guess you can tell it's not my fancy dress code. I have over 30 years experience in business and even taught at a small business college for a couple of years. My method of passing on knowledge is to make the subject easy to understand and to use simple examples and terminology to illustrate the concepts being presented. If you're anything like me I learn a lot easier when I can see an example of what we're talking about. Tell me and show me too.
Who is this Course for ?
This bookkeeping tutorial and course is geared to small business owners, managers, and individuals who have not had any formal bookkeeping training or on the job experience and need or want to learn about Financial Statements and Ratios. Oh by the way, you can teach an "ole" dog new tricks. In other words, this bookkeeping tutorial is for beginners (newbies) or those needing a quick refresher and is only an introduction into the world of Financial Statements. They say a little knowledge is a dangerous thing. Well, my goal is to make you dangerous.

Brief History Of Accounting and Bookkeeping
Father Of Accounting – Luca Pacioli
Each of the bookkeeping lessons in this bookkeeping course builds on and uses terms and concepts from the previous lesson(s).
Bookkeeping Videos are included to emphasize key concepts. Bookkeeping Quizzes and tests are used to test your bookkeeping knowledge.
Goldilocks and the Three Bears Story
Goldilocks was hungry, so she tried some of the porridge from papa bear's bowl-too cold. Goldilocks then tried some of the porridge from mama bear's bowl-too hot. Finally, Goldilocks tried some of the porridge from baby bear's bowl-it was just right. This is the same approach this tutorial will use by not providing too much information or not enough information. I'm aiming for just enough.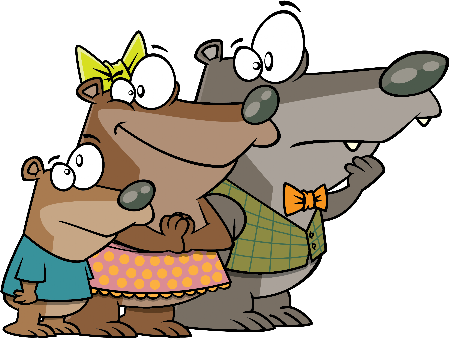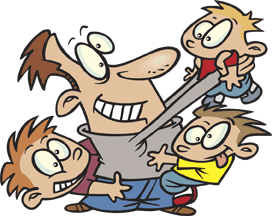 Cartoons are used to add a bit of humor to your Learning Experience. Who says that Learning Can't Be Fun ? Not Me !
The first three lessons cover the basics of bookkeeping and accounting while the remaining lessons discuss the financial statements and how to read, understand, and
use
them.
Lesson 1 Introduction to Bookkeeping discusses the types of business organizations, types of business activities, users of financial information, bookkeeping systems, accounting rules, and the cash and accrual basis of accounting.
Lesson 2
Bookkeeping Language
discusses the major types of accounts, detail accounts, and the chart of accounts which are the building blocks of any accounting system.
Lesson 3
Accounting Equation
discusses the different versions of the equation and how they relate to the double entry bookkeeping system.
Note: Content for the first three lessons were "borrowed" from my Introductory Bookkeeping Tutorial -
Lesson 4
Financial Statements
explains what financial statements are, how they're created,and how they're used.
Lesson 5
Horizontal, Vertical, and Common Size Analysis
explains how to analyze financial statements using these methods.
Lesson 6
Ratios
explains what ratios are, what they tell us, and how they are used to analyze financial information.
Lesson 7
Other Tools
discusses
aging reports, cash forecasts, and budgets
and how they are used.
Lesson 8
Final Review
at the end of the course reviews the major definitions, concepts, financial statements, analyses, and ratios previously discussed and necessary for an understanding financial statements and analysis.
Appendix
The Appendix provides you with:
Learning Aids - Diagrams, "Cheat Sheets", Bookkeeping Ebooks and Text Books, and more.

Spreadsheets - Financial Analysis and Ratio along with a Cash Forecasting Spreadsheet
The objective of this tutorial is not to teach you how to prepare financial statements and analyses; but, tell you what they look like, what they tell you, and how to use the information presented in the statements and analyses for managing your business. if you know how great; but, if not your bookkeeper or accountant should prepare them for you.
Preparing Financial Statements and information is only half the battle. You need to use them ! This tutorial will show you how.
One of my visitors summed it up nicely with the following comment -"
I am a tired and retired small business consultant. The biggest problem I faced was that business owners didn't understand anything about their accounting. The worst part is they were too embarrassed to admit it. Your work is some of the best I have seen to explain it simply and comprehensively. Even a professional could learn a thing or two by studying your work. Congratulations and continue the terrific work."
Business owners don't get all the blame. We bookkeepers and accountants sometimes don't take the time to not only deliver the financial statements; but,take the time to explain what the numbers mean.
After completing this course, you should know the following:
General understanding of the types of business organizations, activities, bookkeeping systems, rules of the game, and who uses financial information.

Definitions of at least the major accounting and bookkeeping terms.

What the accounting equation represents.

What financial statements are and how to read, understand, and use the financial information provided by these statements:



What horizontal, vertical, and common size analysis of financial statements are, what they tell us, and how they're used to analyze financial statements.

What ratios are, what they tell us, and how they're used to analyze financial statements.
What aging reports, cash forecasts, and budgets are, what they tell us, and how they're used.
The Vertical Menu on the Left Side Of The Page contains the Lessons / Sections for Each Lesson.
In some cases, you may need to Scroll Down the Page to select the Lesson / Section.
Each Lesson / Section has Buttons at the Bottom of the Page to use for
Moving Back
to Prior Lessons / Sections and
Moving Forward
to the Next Lesson/ Section.
You should plan on spending at least an hour on each lesson.
You can first View and Read The Lessons / Sections and then Watch the Videos
or
You can first Watch the Videos and then View and Read The Lessons / Sections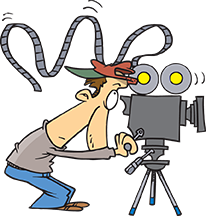 Bookkeeping Videos are included
at the end of each lesson to emphasize key concepts.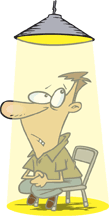 Bookkeeping Quizzes and tests are provided to assist you in discovering areas that may require additional studying.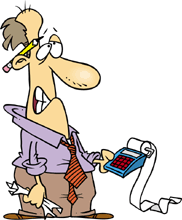 Let's begin our Journey into the World Of Financial Statements and Analysis !
Cartoons on this site provided by Ron Leishman. All Toon images are copyright © . No images may be resold or redistributed without prior written permission from Ron Leishman. If you enjoyed them, get some of your own
Toon-A-Day
.
The information provided on this site is not intended to provide or be a substitute for specific individualized accounting, tax, legal, business, or investment planning advice. Where specific advice is necessary or appropriate, Bean Counter recommends consultation with a qualified tax advisor, CPA, Financial Planner or Investment Manager. The information provided herein is for general informational purposes only and should not be considered an individualized recommendation, personalized investment advice or an endorsement by Bean Counter. The information presented is obtained from what are considered reliable sources; however, its accuracy, completeness or reliability cannot be guaranteed and therefore should not be relied upon as such. Bean Counter accepts no liability for any direct or consequential loss arising from any use of this information.
Bean Counter and their affiliated parties make no representation regarding sites that you might access from this site and are not liable for any damages that you incur from their use.