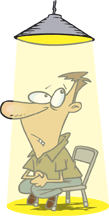 Darn It, back under that light again ! I didn't take this course to be tortured. You didn't think you were going to escape the final review without being tested did you ? See how you do with your Final Exams.
You didn't think your were going to escape my course with just one
Although the main topic of this bookkeeping tutorial is Cash, I've also included a bookkeeping test that covers basic accounting bookkeeping principles and concepts.