Source Documents
Introduction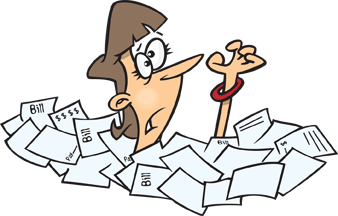 Source Documents
are the original sources of information that provide documentation (proof) that a transaction has occurred such as sales invoices (tickets), invoices
from suppliers, contracts, checks written and checks received , promissory notes, and various other types of business documents.
These documents provide us with the information needed to record our financial transactions in our bookkeeping records.
If you recall a
transaction
is any event or condition that must be recorded in the books of a business because of its effect on the financial condition of the business,
such as buying and selling. A business deal or agreement.
Before you record any transaction in any journal, you need to analyze the transaction and first determine if it affects the financial activities of the business. If it does,
you then must determine what accounts are affected and then what Journal needs to be used to record the transaction.
An example of a couple of business activities that many businesses track that are not initially recorded in the Journals are Purchase Orders and Sales Orders.
They are formally entered in the Journals when the actual sale takes place or the business receives and is invoiced for the products that were ordered.
Transaction analysis is really a simple task that with experience a bookkeeper performs without even thinking about it.
Let's break it down into seven simple steps:
1. Recognize that a transaction (event) has occurred and what source documents such as sales invoices (tickets), invoices from suppliers, contracts, checks written or checks received , provide documentation (proof) that a transaction has occurred.
2. Understand how the transaction (event) affects the business and whether it needs to be recorded in the formal bookkeeping records.
3. Determine what accounts are affected and whether the transaction increases or decreases the account balance.
4. Use the business's Chart of Accounts to determine the account numbers that represent these accounts.
5. Use the debit and credit rules to determine if the accounts are debited or credited.
6. Determine what Journal should be used to record the transaction.
7. Do It-Record the transaction.
Source documents provide evidence that a transaction has occurred and are the basis for recording business transactions.
What's Next ?
The Double Entry Bookkeeping System