Quizzes & Games Menu
Hidden Pages > Quizzes & Games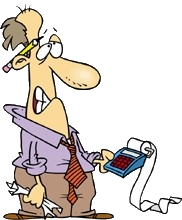 Bean Counter's Bookkeeping
& Accounting Quizzes & Games
Have some fun and learn a little accounting and bookkeeping too. These bookkeeping and accounting quizzes, exams, cross word puzzles and games help to determine your knowledge about bookkeeping and accounting topics.
All Good Things Come to an End
Unfortunately Flash by Adobe went the way of the dinosaur in 2020 -becoming extinct. This is the software that I used to create my games.
This created a lot of additional work for me. I had to convert all my quizzes and games to the "ole" fashion quizzes. You can access them with the following links:
The tests cover introductory bookkeeping and accounting concepts such as:
Accounting Terms & Definitions

Types Of Accounts

Chart Of Accounts

Understanding Debits and Credits


Financial Statements

Merchandise Inventories

Cash and Cash Controls

Recording Entries in Special Journals

Payroll


and More ...