Small Business Advice
Courses & Lectures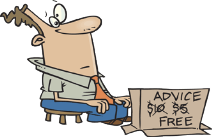 Dave's Office Chats

In The Office with Dave

These free small business bookkeeping and accounting related video presentations (office chats) discuss and provide advice and tips related to small businesses.
Small Business Guidance and Advice provided for those looking for guidance and tips for running a successful business.
Banking & Cash Receipts Banking & Cash Payments
Small Business Tips Download
For those wanting a complete listing of all my

Small Business Tip

s I've provided a PDF Version that you can download and use as a checklist.